Strodio 4.3.0
Three new diagrams are added to the library:
- Intersection 5 arms with bicyclists and pedestrians;
- Roundabout 5 arms with bicyclists
and pedestrians;
- Roundabout 4 arms with U-turns.

This version is ready to use with MS Windows 10. It can handle the Windows-setting for large scaled fonts (high DPI). The diagram is drawn on the screen with anti-aliasing. And Strodio can now be opened more than once at the same time.

A complete list is included in the file 'ReadMe.txt' that you can open after installation. The demo version of Strodio is now available.




Parkero 3.1.3
This version of the program for processing parking duration surveys, is de first version with an English translation of the interface and help file. It's also completely compatible with MS Windows 2000 / XP / Vista / 7 / 8. Download the demo version now.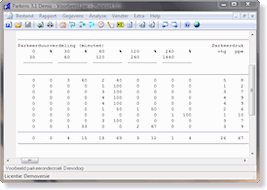 Trenso
Trenso is developer and dealer of traffic engineering software:


| | |
| --- | --- |
| | Kenteko: processing of license plate registrations for information about origins and destinations; |
| | Parkero: processing of parking duration surveys; |
| | Strodio: visualizing traffic flows on traffic junctions and roundabouts; |
| | Kalibrero: divides traffic flows on a junction; |
| | Focato: a GIS-catalogue for digital photos; |
| | Capacito: five capacity-modules in one application: Slop, Harders, Brilon/Stuwe, Akçelik, Pedestrian cross delay. |

Kenteko 4.4.0
This version has improved Registrations Matching Reports and is better compatible with MS Windows 10. The file ReadMe.txt that comes with Kenteko gives you a complete list of additions and changes for this new version. Download a free demo version here.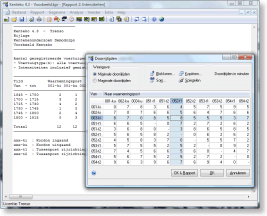 Trenso goes international
Since the translation of the programs Kenteko, Parkero and Strodio into English, we are proud to present that we now have users in The Netherlands, Belgium, Germany, Slovenia, Denmark, Serbia & Montenegro, Kosovo, Bulgaria, Spain, New Zealand and Chile.